Showrooms/public

buildings

Often a challenging task due to constantly changing user demands in showrooms, exhibition halls, supermarkets, department stores, pavilions, museums, atriums, etc.
Why textile ducts?
Textile ducts are very well-suited for efficient, uniform, and draught-free distribution of fresh air without "dead zones".
Why textile ducts?
Read more about textile ductwork
Order our catalogue for further information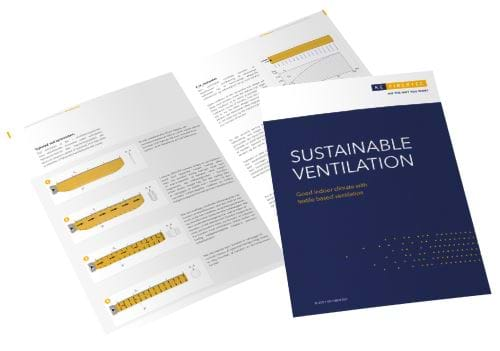 Showrooms and public buildings
Typical benefits in these installations;


Can deliver air to large spaces with minimal ducting
Aesthetically attractive
Can keep large areas of glazing condensation free
Will act as an acoustic damper within the space
Economical solution in terms of outright cost and speed of installation
Large air throws possible, typically 2 to 25 metres
Can form complex and interesting shapes


System and section choices available;


KE-Inject® and KE-Direjet®
5 standard colours and 1600 special colours
5mm holes (Inject), 12, 18, 24, 48 and 60mm nozzles (Direjet)
Aluminium suspension rail or wire
Sign up for our newsletter and get a free design guide for textile ducting.