Laboratories

Handling of high air volumes at minimum air velocity in the occupied zone in VAV fume cupboard extracts, pharma production, "clean room" classified, R&D laboratories etc.
Why textile ductwork?
Textile ducts are very well-suited for efficient, uniform, and draught-free distribution of fresh air without "dead zones".
Why textile ducts?
Learn more about textile ductwork
Products for laboratories
Order our catalogue for further information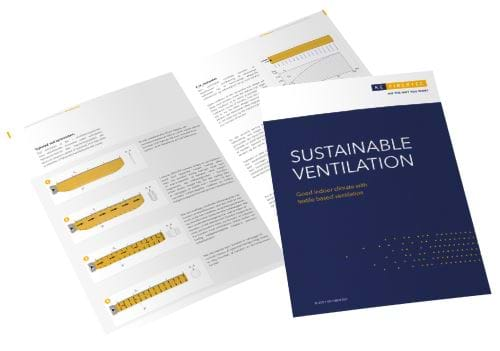 Laboratories
Typical benefits in these installations;


maintains the integrity of the fume cupboards - containment
Prevents draughts that are often experienced with terminal hepa filters; the ducting provides even air distribution over a long run
Very low terminal velocities
Aesthetically pleasing
Non shedding of fibres when using KE's certified clean room textiles
Air ciculationin the room can be induced with the inclusion of the KE-Inject® LaserCut which caters for a little heating in a virtually isothermal room


System and section choices available;


KE-Low Impulse®, KE-Interior®, and KE-Inject® LaserCut
"O", "D" or quadrant section of ducts
Clean Room ducts - white only
Fume cupboard laboratories - full choice of colours
Anti-static textile options suitable for explosion proof labs
Sign up for our newsletter and get a free design guide for textile ducting.