Industry

Ensuring that the required fresh air is delivered to the employees without draft problems in light industry, heavy industry, printing works, extreme cooling facilities, vehicle workshops etc.
Why textile ducts?
Textile ducts are very well-suited for efficient, uniform, and draught-free distribution of fresh air without "dead zones".
Read more about textile ductwork
Order our catalogue for further information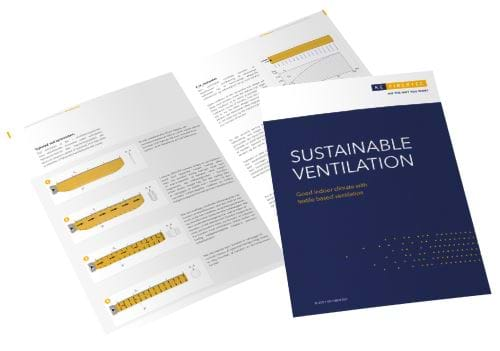 Industry
Typical benefits in these installations;


Close control of temperature
Easy to maintain
Air throws typically 2 to 25 metres
Cost saving on ducting and installation
Leightweight
Easily removable if access required
Long runs possible  (up to 100 meters)


System and section choices available;


KE-Inject®
KE-Direjet®
5 standard colours and 1600 special colours
5 mm holes (Inject), 12, 18, 24, 48 and 60 mm Nozzles (Direjet)
Aluminium rail or stainless steel wire suspension
"O" and "D" section ducts
Non permeable fabric - no clogging
Sign up for our newsletter and get a free design guide for textile ducting.