Food

industry

No condensation problems, no growth of microorganisms in the specially woven materials from KE Fibertec for equalising rooms, warehouse/terminals, high bay warehouses etc.
Why textile ducts?
Textile ducts are very well-suited for efficient, uniform, and draught-free distribution of fresh air without "dead zones".
Read more about textile ductwork
Products for the food industry
Order our catalogue for further information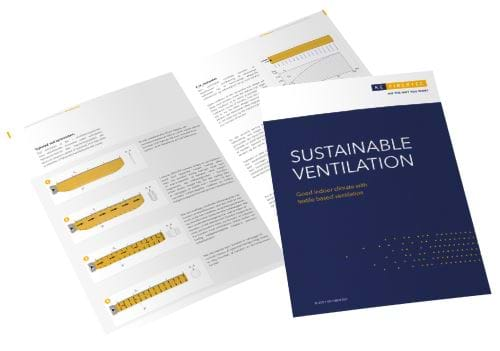 Food industry
Typical benefits in these installations;


Very low air velocities - no chill factor to operatives ( or breaking of yarns )
Free of condensation - no insulation required
Hygienic solution, wherby ducts can be removed for washing. Please see our maintenance section for details
Non corrosive - synthetic flame retardant and self extinguishing polyesyer
Transforms bland white food prep rooms with colour
Colour coding to High care - maybe Red and Low care - maybe Blue
Easy connections by zippers
Cost saving on ducting and installation
Compact storage for spare ducts


System and section choices available;


KE-Low Impulse®, KE-Interior®, KE-Inject® and KE-Direjet®
5 standard colours and 1600 special colours
Aluminium rail or stainless steel wire suspension
5 mm holes (Inject) LaserCut holes to provide mixing at high level before cold air enters occupied zone - even lower air velocities in occupied zone
Sign up for our newsletter and get a free design guide for textile ducting.