Comfort.

Good indoor climate with a very high demand for comfort in offices, conference halls, concert halls, sound studios, canteens, schools, child care facilities etc.
Order our catalogue for further information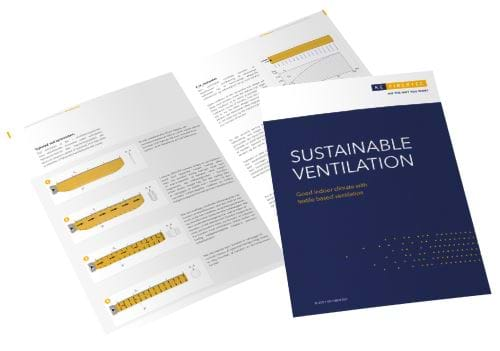 Comfort ventilation
Typical benefits in these installations;


High level of comfort
Very low terminal velocities
Prevents draughts often preseent with cassette units
Aesthetically pleasing
Can act as an acoustic damper within the space
Can be dyed to perfectly match interior
Air circulation in the room can be induced with the inclusion of the KE-Inject® LaserCut which caters for a little heating in a virtually isothermal room

System and section choices available;


KE-Low Impulse®
KE-Interior®  and
KE-Inject®  LaserCut
"O", "D" or quadrant section of ducts
Low profile lightweight track for fixing to suspended ceilings
Curved & illuminated ducts available
Sign up for our newsletter and get a free design guide for textile ducting.