Textile

Based

Ventilation.

KE Fibertec supply sustainable ventilation solutions for a healthy indoor climate and energy savings.

Read more

InTex.

Be notified when your textile duct needs to be washed. That is the idea behind InTex - a device which monitors the air pressure of your textile based ventilation system.

Read more about InTex

A

solution

for

every

need.

KE Fibertec's textile duct solutions can be used in all types of commercial buildings where a healthy indoor climate is required
Implementation of sustainable packaging design
We are proud to have reached another important milestone with a more sustainable and environmentally friendly packaging and transport solution. With the implementation of the first phase and the commissioning of a new packaging line starting in January, we will reduce our carbon footprint of our packaging by as much as 62%, which is a result that we are very pleased with. Click on link and read the article...
We make a difference for a more sustainable future
62% lower carbon footprint with new packaging design
Order the ventilation catalogue today!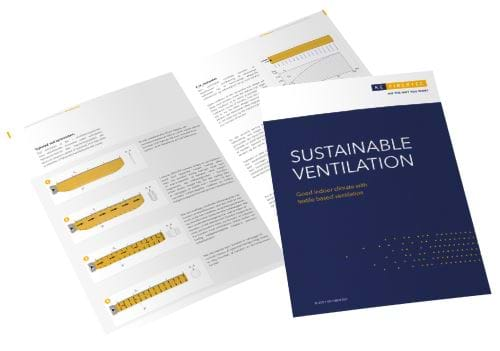 Choose a solution that suits your needs
Sign up for our newsletter and stay updated with latest news.