Textile

Based

Ventilation.

KE Fibertec supply sustainable ventilation solutions for a healthy indoor climate and energy savings.

Read more

InTex.

Be notified when your textile duct needs to be washed. That is the idea behind InTex - a device which monitors the air pressure of your textile based ventilation system.

Read more about InTex

A

solution

for

every

need.

KE Fibertec's textile duct solutions can be used in all types of commercial buildings where a healthy indoor climate is required
We introduce another Cradle to Cradle approved material line
We are proud that another material line, our MultiWeave material, has just been Cradle to Cradle certified. The MultiWeave material is available in seven different Cradle to Cradle colours, which are always dope-dyed, i.e. the chips themselves are spun into yarns instead of dyeing the finished fabric. This reduces water consumption to almost nothing compared to a conventional dyeing process.
We introduce another Cradle to Cradle approved material line
Read more here
Order the ventilation catalogue today!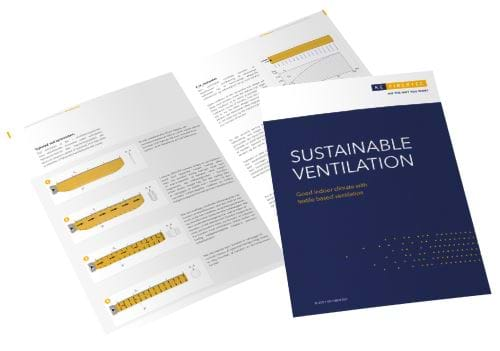 Choose a solution that suits your needs
Sign up for our newsletter and stay updated with latest news.