About

KE

Fibertec

KE Fibertec AS develops, manufactures, and markets "Good indoor climate" or air distribution systems based on fibre technology and sustainability.

Play video
KE Fibertec weaving mill
KE Fibertec is the only manufacturer of textile ducts worldwide to have their own weaving mill
Read more
Air the Way You Want
KE Fibertec UK Ltd is a wholly owned subsidiary of the parent Danish company, KE Fibertec AS based in Vejen, Denmark.

Based from an office on the perimeter of Southampton, KE Fibertec UK Ltd offers a full range of design and fulfillment of all KE Fibertec products, as well as the complimentary range of products available from Euroair AS.

The team of professionally qualified engineers based from the Southampton office are available to discuss all aspects of customers projects, and will offer best advice to fellow professionals so that the correct ventilation system can be selected from our range of products.

From this office we can provide the following services


Qualified engineers with a wealth of knowledge of textile based ventilation design
Project assessment and general advice on best product suitability
Reliable design using our TBV Designer program
Installation advice and technical support
Maintenance schedules arranged
Washing and repair service from this office
Site visits available throughout the UK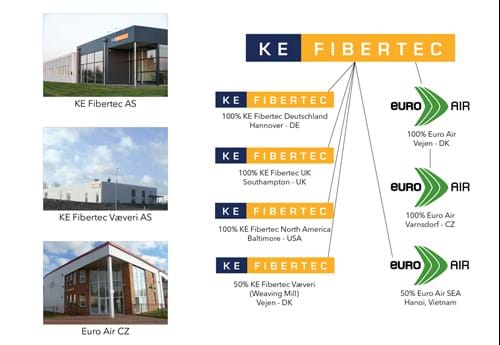 More information
about KE Fibertec
History

The history of KE Fibertec AS goes all the way back to 1963  when manufacturer Keld Ellentoft (KE) began making filterbags for  industry. In 1996 KE Fibertec was established in a management buyout  by two leading employees, Henning S. Jensen and Carsten Jespersen. In  March 2007, Managing Director Henning S. Jensen sells his shares  to Jysk-Fynsk Kapital AS, and Sales Director Carsten Jespersen is  appointed new managing director.

Behind Jysk-Fynsk Kapital are five  well-known Danish family foundations, AHF Holding (Faber Gardiner),  Genua A/S (the Primo group), Hoffmann Capital A/S (Arovit Petfood),  L.  E. Kristiansen Erhvervsinvest ApS (Tvilum Scanbirk), and Vald. Birn  Holding A/S (the Valdemar Birn group).

From 1996 to 2009 KE Fibertec has undergone a huge development both as  to turnover and staff. From approx. 40 employees in 1996, today's  number of employees is around 110, and subsidiaries have been established in the UK, Germany, and the USA as well as the production company KE Fibertec Væveri.

With the acquisition of Euro Air A/S and  Euro Air CZ (production company of Euro Air in the Czech Republic) in  2007, the KE group has strengthened its position as the world's leading  manufacturer of textile ducting.

KE Fibertec was first marketed by Induscool in the UK, then up until 2004 by JSP Airfridge. Since 2004, KE Fibertec UK have been selling the products under their own name.

Environment and energy

KE Fibertec is ISO 14001 certified


Reusable packaging systems employed


KE Fibertec's Safetrack rails contain 25-30 % recycled aluminium.


Production waste is incinerated and used for district heating. Low weight and compact size of

 

textile ducting

 

systems equates to low CO2 generation from shipping. Trevira CS do not use solvents, and do not use compounds containing halogen or nitrogen


No chemical finish is required for flame retardancy on Trevira CS products.


36 % less consumption of water when washing Trevira CS textiles, compared with cotton materials.


CradleVent

 

products are fully recyclable.


Read about our work with environment, energy and CSR at KE Fibertec Group website

Quality

KE Fibertec is ISO 9001 certified which is a strategic management system to monitor the quality of all internal processes. Our goal is to deliver high quality products and services as agreed with the customer.

We take pride in working honestly and keeping reliability towards our customers, suppliers and colleagues.

Your time is valuable, and we understand the importance of delivering on time. 99.0% of our orders are delivered at the confirmed date.

Any errors will be corrected immediately. Our report system identifies and implements actions necessary to obtain continuous improvements. We have constant focus on customer complaints and have been able to reduce this number to a historic low of 0.076%. in 2018.

Customer complaints %




Jobs

Currently we do not have any job openings but feel free to send us an unsolicited application on info@ke-fibertec.co.uk

KE Fibertec weaving mill

KE Fibertec is the only manufacturer of textile ducts worldwide to have their own weaving mill. The weaving mill was established in 1972 and is today run by Mr Frank Hansen who is the manager and third generation of the family business.

KE Fibertec weaving mill exclusively manufactures fabrics for textile duct ventilation which is a unique situation on the global market and which gives us a valuable know-how on these materials for the benefit of our customers.

To have our own weaving mill just across the parking lot gives us a very flexible cooperation partner who can meet our demands and requests on especially quality control and supply security.

KE Fibertec weaving mill has very strict demands on suppliers of yarn, and all raw materials are subject to extensive input control to ensure that the permeability is unchanged even after many washes:



Colour may vary no more than ∆E=1
The textiles may shrink no more than 0,5%
Maximum 1% spinning oil in the yarn (standard for raw materials 3.5-7%)


After input control the fabrics are woven on 8 looms in total - rapier looms and the more upgraded air jet looms.

To be able again to control the shrinkage, the fabrics are heat set, i.e. heated in a special oven at 160°-190°C. At this stage the material can shrink maximum 0.5% after washing.

Before the fabrics leave the weaving mill, they undergo inspection on a light table to check for faults such as stains, and the permeability is checked as well.

A barcode enables us to monitor the fabric which gives us full traceability in relation to production date, permeability, etc. - from reel to finished product delivered and installed at the end user.

All materials are 100% polyester available in 3 different qualities:



GreenWeave (DS approved, fire retardant - B-s1, d0)
MultiWeave (fire retardant)
Ordinary polyester


Further, we supply special materials such as Nomex and antistatic Trevira CS.

KE Fibertec weaving mill manufactures 7 different types of "permeability" and has a range of 89 different product items.



Order our catalogue for further information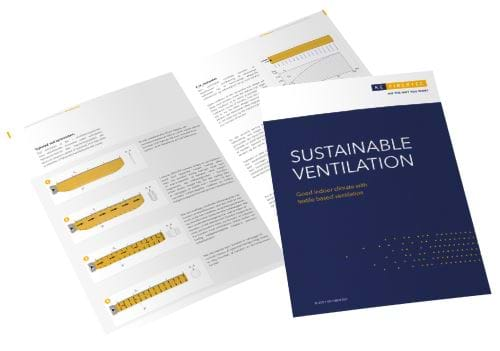 Design Advice
Designers are often keen to select their own TBV system, however, the selection process involves many factors, so we would prefer to assist you in your selection.


In order to determine what type of

 

textile ducting

 

solution is suitable for your application, we will need to know a few things;


Dimensions of the space


The intended use of the space - from this we will calculate suitable air velocities for the occupants based on required comfort levels


Permissible locations to run the textile ductwork


Supply air volume


Maximum and minimum supply temperatures and the desired room temperature


The required NR rating of the space


What type of surface we are able to mount to


TBV Designer, our inhouse design program needs all of this information to provide a quotation, we prefer not to quote per metre rates.

In order to dimension a textile based ventilation system, it is important to understand a number of essential parameters and concepts.

A textile based ventilation system is not that different from conventional ventilation systems, but there are a number of key points where it is important to be extra cautious, such as pressure conditions, pressure loss, pulsations, pressure impact, entrainment, air velocities and sound.

It is immediately obvious when a textile based ventilation system has been dimensioned incorrectly because the ducts will be oval and "saggy" when you look at them. The difference in the static pressure between two parallel ducts could be quite considerable too.

This not only has an impact on the look of the system, but also on the air distribution. If the pressure distribution is uneven it could cause draught problems below and around the duct with the highest static pressure, while in another area, the air quality will be poor where the static pressure (and therefore the volume of air) is insufficient.

Furthermore, there may be a risk of pulsations in the textile material that may damage not only the textile material but also the suspension material.

Finally, a correctly dimensioned TBV system is important so as to achieve the required sound levels from the system.

Dialogue & Quotations

KE Fibertec has developed a number of tools and services that our customers can choose to use throughout the entire project process. Our services are graded so that customers can decide themselves which ones they require. We believe that no two jobs are the same and no solution is standard. As a result, the documentation and level of detail needs to be adapted to the requirement and each individual project.

Our service can be split into two categories:


Quotation and design
Exteneded project documentation

Our quotation and design processes are described in detail in our ISO 9001 quality assurance system. This ensures that we prepare the basis for the quotation and the quotation itself according to the standardised guidelines, while making sure that the customer's requirements are specified and documented in sufficient detail.

KE Fibertec puts a large emphasis on ensuring that the final solution is designed correctly even at the initial quotation stage. After all, it is not only about ensuring that the textile based ventilation system works properly, but also, just as importantly, that the customer's requirements have been met.

This is why we ask about the system's functional requirements and the requirements for the indoor climate even at the quotation stage. We do not make a habit of selling textile ducting by the metre.

All our calculations are proven using our unique software WinVent 3D, this is offered to all our customers, regardless of the size of their project and, of course, it is free of charge.

Detailed mounting and maintenance instructions are included. For more complicated TBV systems we also include AutoCAD drawings.

As part of our extended project documentation we can offer full-scale measurements in our laboratory, on-site measurements and CFD simulations.