New sustainable colours offer more design options for a good indoor climate
24-02-2021

KE Fibertec has been working intensively with sustainability since 2012, since we were the first manufacturer in the world in textile based ventilation to be certified according to the Cradle to Cradle standard. At the same time, we have had a strong focus on reducing our carbon footprint, and we are proud that we have achieved a 52% reduction in our carbon footprint per sold DKK compared to 2010. The good result is primarily due to our strong focus on resource and energy reduction. The journey towards becoming carbon neutral at our Danish factories does not stop here.

As of April 1, we are expanding our GreenWeave material range by exclusively offering Cradle to Cradle approved colours. By using dyed yarns, we achieve a saving in water consumption and wastewater of just over 67% compared to conventional dyeing. We call it Green Thinking.

With GreenWeave, which is a 100% degradable material without chemical additives, and which is Cradle to Cradle-certified, we can now offer textile ducts in as many as 7 beautiful colours for our CradleVent® ventilation solutions - the latest new sustainable colour is dark grey. So whether the colour should be red, yellow or a completely third colour depends on how the design should fit into the architecture of the building. With our colour range, we offer a high degree of freedom and flexibility in design options with a sustainable material. At the same time, there is free choice when dimensioning both in terms of system layout, materials and air distribution, so that the solution is tailored to the building.

One of the many advantages of GreenWeave is that it acts as an M6 pre-filter, cf. EN 779: 2012, which ensures clean breathing air in the room. We can offer a variety of permeabilities that make it easy to dimension very precisely, enabling you to achieve low air pressure and thus energy savings. With the highest dust holding capacity on the market of 25 g/m3 textile surface, cf. EN 779: 2012, GreenWeave also has longer washing intervals - up to 3-4 times longer compared to similar products. The material is suitable for textile based ventilation solutions for comfort installations with high demands on the indoor air quality, such as offices, schools, gyms, conference rooms and laboratories.

As the only manufacturer in the world, KE Fibertec offers customised textiles for ventilation solutions from our own weaving mill. It enables us to control the entire production process of our materials. Flexibility and tailored solutions are what characterise our textile based ventilation solutions.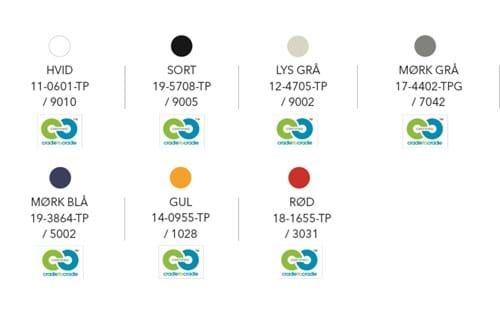 CradleVent®
KE Fibertec's CradleVent® textile duct is made of Cradle to Cradle-approved materials and is a future-proof and sustainable product for air distribution in office premises, schools, restaurants, laboratories, gyms, public buildings and other comfort environments. Textile ducts provide an efficient air distribution with a significant improvement in air quality without draughts.