KE Fibertec wins Vejen Development Committee Award 2019
22-03-2019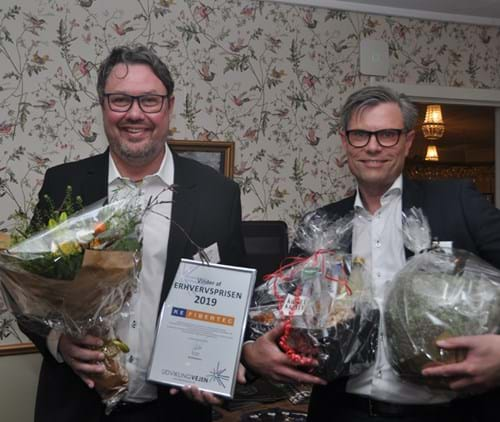 The atmosphere was enthusiastic and hopes were high when Managing Director Carsten Jespersen (right) and Production Director  Johnny Kusk Møller on Wednesday March 20, 2019 attended the annual general meeting of Vejen Development Committee.

Later that evening the winner of this year's development business award would be announced. In total 42 companies were nominated of which three were shortlisted. From these three the committee chose KE Fibertec as this year's award winner.

The two other shortlisted companies were Fermentationexperts in Baekke and Pro-Plan in Jels.   

In awarding the prize, the committee emphasized our flexibility, employee care, innovation, diversification, focus on the value chain, and our focus on sustainability.

The board of representatives states, "In many ways, KE Fibertec is a dynamic and successful company and a great inspiration to other companies. In their role as international supplier to construction industry the company is continuously affected by market conditions and competition requiring both adaptability and long-term thinking."

Man. Director Carsten Jespersen thanked for the award with these words: 

"We are very thankful for this award as we were up against some very strong companies. Even though we are an export company and hire most of our staff for our foreign divisions, our base is in Vejen. We hope to be able to stay here for many years to come."