KE Fibertec receives the business award "Successful Business 2020"
29-09-2020

KE Fibertec has been honoured with Spar Nord's and BDO's business award "Successful Business 2020". The award was presented on 28 September 2020
to the management of KE Fibertec in Vejen.

Among 1,000 Danish companies and of these 200 located in the southern region of Denmark, the accounting company BDO and the bank Spar Nord have pointed to KE Fibertec in Vejen as the recipient of the business award, which was established in 2019. The purpose is to pay tribute to the elite of small and medium-sized companies in the Danish business community who make a special contribution to growth and prosperity in the local areas and to the Danish economy as a whole.

"We are proud to be awarded the "Successful Business 2020" award as proof that we have succeeded in generating results and growth while contributing to the development of the local and global market. At KE Fibertec, we are honored to have received the award especially at this time when we are all influenced by Covid-19. It is to a large extent the result of a great effort from all our employees, who every day contribute to making a difference and contribute to the development we have experienced in recent years," says director, Carsten Jespersen.


Facts about the business award "Successful Business 2020"
A successful business must at least be able to present:


Growth in profit before tax over the past five years
A solvency ratio of more than 15 percent in the most recent financial year
Growth in solvency measured over the past five years
Have the ability to create results with the given capital base


Read the entire article about the award ceremony, published in JydskeVestkysten on Tuesday, September 29, 2020:

KE Fibertec is "Successful Business 2020"


Facts about KE Fibertec
KE Fibertec develops, manufactures and markets good indoor climate with air distribution systems, based on fibre technology and sustainability. These are textile based ventilation solutions that provide energy savings and a good indoor climate. The company has almost 50 employees in Vejen in Denmark, and 120 employees worldwide.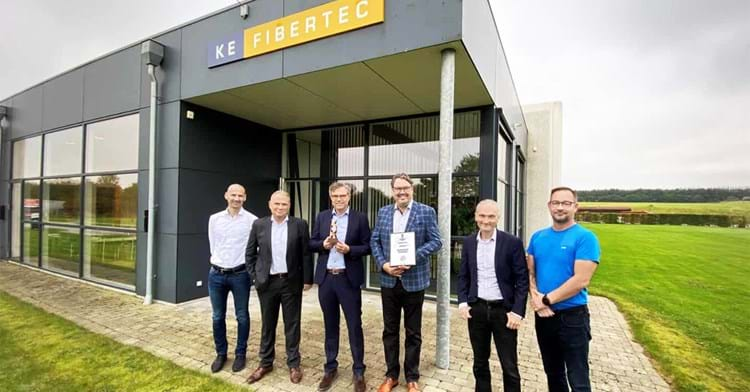 Photo:
by Søren Dippel, JydskeVestkysten

From left: State Authorized Public Accountant Frank Barrit, BDO, Director Bjarne Claussen, Spar Nord, and from KE Fibertec: Director Carsten Jespersen, Production Manager Johnny Møller, CFO Svend Anker Fogh and Director Frank Hansen, KE Fibertec Væveri (weaving mill).