KE Fibertec ready with documentation for the sustainable building of the future
06-10-2021
With a certification in the UN's global goals and with complete documentation packages that show how textile based ventilation can contribute to a sustainable building certification according to the DGNB standard, and how the solution complies with the Voluntary Sustainability Class, KE Fibertec is now ready with material that provides consultants, contractors and other customers in the construction industry documentation of how the company makes a difference for a more sustainable future.

Sustainable thinking is here to stay and the global climate crisis has resulted in an urgent need for sustainable change with a focus on more environmentally friendly and energy-efficient alternatives. Today, 40% of the world's carbon emissions can be related to construction industry and buildings, so it is now that we must "walk the talk" and apply materials and solutions for good and healthy buildings without harming the environment and the climate. It is both in relation to new constructions and renovation projects that the focus on energy efficiency and recycling will be key areas in the development towards a greener and more sustainable society.

Over the years, many companies in the Danish construction industry have focused on devising strategies according to sustainable thinking, so development is underway. But in order for it not only to become a declaration of intent using words that materials in a building are manufactured sustainably, it is becoming increasingly necessary for companies in the construction industry to be able to document how their products and services live up to sustainability.

Today, Danish companies perform according to various classifications and certifications, with which they can document their constructions processes. One of the more recent initiatives from 2020 is the Voluntary Sustainability Class, which aims to promote sustainable construction in Denmark. The class is not yet compulsory and is currently being tested, but is expected to become a requirement in the building regulations in 2023. When talking about certification of sustainable construction in this country, the most used certification standard for new construction is the DGNB standard, which is administered by the Green Building Council Denmark.

With the DGNB certification, you can document the building's sustainability. Listing  more than 40 criteria such as energy and resource consumption, materials' environmental impact, air quality and architecture, it will be an overall assessment of how the building affects indoor climate and health. On the basis of all criteria and measurement deemed important for the certification, the consultant or client collectively calculates how choices in the construction process affect the social, economic and environmental conditions of the building.

Sustainable construction is not only limited to the materials and solutions applied, but to a large extent also to the use of the buildings, including the indoor climate. A good indoor climate is key to health, well-being and productivity of the staff. Throughout the optimisation process of the indoor climate, sustainability is a good starting point, and with a certification you can often achieve a better indoor climate than is required by legislation and regulations, because many criteria must be met.


"Our analyses show that KE Fibertec can thoroughly document their sustainability and the circular economy throughout the life cycle of their products. The transition from a linear to a circular workflow has been implemented throughout the value chain and is documented, among other things, through a Cradle to Cradle certification. As a sustainability consultant, it has been a very positive experience to work with a company that puts sustainability high on the agenda and executes," says Katrine Oline Aavitsland Lund, Senior Sustainability Consultant, Ramboll Denmark A/S

KE Fibertec has worked with sustainability for many years, and since the company was certified according to the sustainability standard Cradle to Cradle in 2012 with the world's first sustainable textile duct, CradleVent®, it has been part of their entire foundation and the way the company develops and optimises products and processes  in textile based ventilation. The company places great demands on its entire Supply Chain with a focus on impacting the environment and resources in manufacturing as little as possible and throughout the product life cycle.

Choosing a textile-based ventilation solution indicates that you are already thinking about the environment. Textile ducts have a low weight, which makes them noticeably easier to transport than traditional steel ducts. This means lower fuel consumption and thus less CO2 emissions. The air distribution with textile ducts is extremely efficient, they work optimally at lower air pressures and do not take in unnecessary air. Overall, it provides energy savings, better ergonomics and a better indoor climate.

"We take responsibility and want to impact the environment as little as possible in everything we do - from the production to the transport of our products and to how we can recycle the textile material after use", says Anders Olsen, Development Manager at KE Fibertec.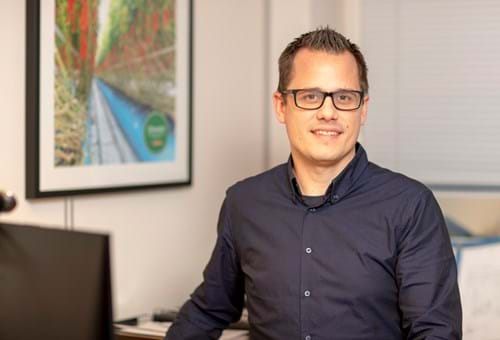 Anders Olsen, development manager, KE Fibertec

With a focus on sustainability, KE Fibertec has worked purposefully to meet the ambitious goal of becoming carbon neutral by 2030. As an integral part of the strategy, the company has in recent years worked with the UN's global goals with the goal of developing and supplying sustainable and energy efficient ventilation solutions. An important milestone on this journey was reached in July 2021, when KE Fibertec was certified by the UN's 17 global goals through Bureau Veritas.

"With our Cradle to Cradle certification, we have already been long involved in  optimising and developing towards more sustainable solutions, so it was a natural progression for us to strategically work with the global goals as well. It is important that we constantly develop in a greener direction and help to make a difference not only in terms of resources, but also in creating a good indoor climate. We are therefore very proud to be certified and look positively to the future in terms of achieving our goals," says Anders Olsen.

Our work on sustainable solutions goes further than that. In collaboration with the engineering and consultancy company, Ramboll, KE Fibertec in July 2021 prepared a report documenting how textile based ventilation can contribute to both a sustainable building certification according to the standard "DGNB Denmark - New constructions and extensive renovations 2020", and how the company's solutions contribute to the Voluntary Sustainability Class. We can now offer well-structured material with complete documentation packages that provide consultants, contractors and architects with a solid foundation for choosing the right products for their building projects and an overview of the impact of a textile based ventilation system on the building despite the fact that the ventilation system itself often constitutes only a small part of the total construction.

"We want to offer our customers relevant documentation and materials that provide a quick overview and help with an easier process in what can sometimes be a complex and comprehensive project description, especially when it comes to larger building projects. We have had a positive collaboration with Ramboll to prepare complete documentation on how our textile based ventilation solutions can help winning points towards a certification of a sustainable construction," concludes Anders Olsen.