KE Fibertec introduces another Cradle to Cradle approved material line
23-05-2022
At KE Fibertec we want to take responsibility for the environment as a global company and we have now for 10 years worked purposefully and strategically to develop and improve our products and processes so that we impact the climate as little as possible and contribute to creating a supply chain that considers environmentally friendly and energy-efficient development. Already in 2012, we reached the first important milestone with a certification according to the sustainability standard Cradle to Cradle on the journey towards providing materials that can be included in the circular economy.

We are therefore proud that another material line, our MultiWeave material, has just been Cradle to Cradle certified. The MultiWeave material is available in seven different Cradle to Cradle colours, which are always dope-dyed, i.e. the chips themselves are spun into yarns instead of dyeing the finished fabric. This reduces water consumption to almost nothing compared to a conventional dyeing process.

The MultiWeave material line is available in seven beautiful "green colours":





In addition to the new MultiWeave material, we of course continue to offer a full range in seven Cradle to Cradle approved colours in the GreenWeave material line. 

With certification in the new Cradle to Cradle standard, version 3.1, KE Fibertec scores Gold in Material Recycling, in Renewable Energy Use and in CSR (social fairness) and Bronze in Material Health and Waste Water Management.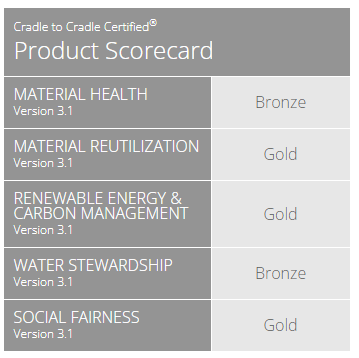 With the recent expansion of our Cradle to Cradle certified materials program, we can now add another important milestone to the goals we have achieved in the last few years alone including certification under the Cradle to Cradle standard. UN's 17 SDGs through Bureau Veritas, documentation material for a sustainable building certification according to the DGNB standard, 62% lower carbon footprint with new packaging concept and new cooperation agreements on recycling of residual materials. But the journey does not end here - we will continue our optimisation and development towards becoming completely carbon neutral by 2030.