Sprout Space - Modular Classrooms with Fabric Ducting
12-21-2018
The Sprout Space modular classroom is a revolutionary design that has won many architectural awards and has been featured in multiple articles.

KE Fibertec's fabric ducts were chosen by Architects Perkins + Will to provide the air dispersion for these innovative classrooms. KE Fibertec's fabric duct system met the rigorous performance specifications set by Perkins + Will and still provided a unique design element never seen in modular classrooms before.  

Even and quiet air distribution

Fabric ducts were selected on this project because of their ability to distribute the air evenly and operate quietly. These two characteristics of fabric duct are very important in the educational sector which needs efficient operation to help control costs and minimal acoustics to give students a distraction-free environment.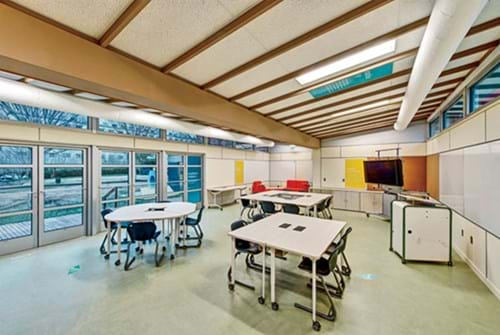 Most materials in this project serve multiple roles and the fabric ducts system is no different as noted by Allen Post project leader in an article with Smithsonian magazine's Megan Gambino.


"Post tells me that he has been in classrooms when students have noticed the fabric ducts filling with air. "It just generates curiosity," he says. "They recognize that the HVAC is on, energy is being consumed, and fresh air is coming into the building. So, they become conscious about, literally, the air that they are breathing."

The Sprout Space prototype classroom is currently on display at the National Building Museum in Washington D.C. and is utilized everyday by local students who come there to see a new place and way to learn.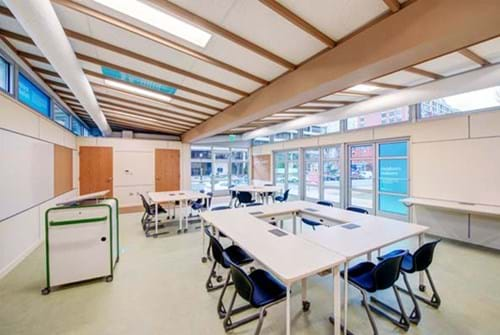 Design Info:

Total supply air flow 1,400 CFM. Design operating pressure 0.3 inchWG Air velocities in the space @ or below 75 FPM.

Fabric duct configuration: 2 each 12" round ducts total 64 LF/classroom.

The air is distributed by a KE Inject Hybrid system gently supplying the air to the space through both the duct service and the strategically placed holes.

The ducts are supported by a single safetrack rail for continuous support of the full length of the fabric duct.




Articles appear in:

The New York Time Dot Earth
Green Build and Design
Smithsonian Magazine
Architectural Record

Read more about the Sprout Space project on sproutspace.com