About

KE

Fibertec

KE Fibertec North America designs and sells fabric ventilation systems (more commonly known as fabric ducts/duct socks/sox) for draft-free air distribution in all types of applications.

Play video
KE Fibertec weaving mill
KE Fibertec is the only manufacturer of fabric ducts worldwide to have their own weaving mill
Read more
Air the Way You Want
KE Fibertec NA is a subsidiary of KE Fibertec AS with its corporate headquarters located in Denmark.

KE Fibertec was one of the first fabric duct manufacturers established in the early 1970's and since then has grown into the largest fabric duct manufacturer in the world- and the only one with its one weaving mill.


Read more
KE Fibertec NA is located in Edgewood, Maryland (north of Baltimore) and is equipped with advanced calculation software enabling its experienced engineers to simulate the solution and to offer the best technical support in the fabric duct industry. This office was founded in 1999 and since then has successfully been expanding its coverage throughout the United States and Canada by selling through our HVAC Manufacturers' Representatives.

Our HVAC Representatives are all ventilation professionals who are available to help you define your air distribution problem and design a solution for it, in close cooperation with the KE Fibertec NA office.

Fabric ducts have become very well known for their flexibility and efficiency for a wide range of applications. At the same time, KE Fibertec has established a reputation for offering the best fabric ducts on the market in terms of quality, aesthetics, performance, and industry advancements.

We hope that this website will provide you with the information you need to utilize fabric ducts in your building design. Nearly 40 years of experience back up our product lines and we look forward to applying this expertise in your next ventilation project.


KE Group 2020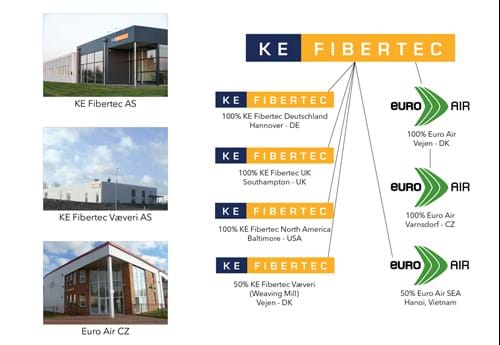 More information
about KE Fibertec
Mission

To sell "Good indoor climate" is more than just supplying air distribution products. To us it is about dialogue, competence, reliability, and logistics.

Our philosophy is to start with the requirements and - through dialogue - design a solution that meets the expectations specified for a good indoor climate. Just as people are different, indoor climate requirements are different, too.


It is our objective to make "Air the way you want":



Through advanced use of fiber technology and competent advising, we wish to give our customers the benefits of fabric based air distribution (heating, ventilation and cooling) in all types of buildings.



We will continue to strengthen and develop our core competences in the R&D, logistics and production of fabric-based ventilation products in order to be the supplier of choice on selected markets worldwide.

Vision

We shall work hard to create sustainable solutions that will work year after year. A good cooperation goes further than delivery of the next order.

It is our vision to offer technology that makes a difference, and together with an efficient logistics function, we feel well positioned to solve your next ventilation job.

Our criteria of success are (we want to build a culture based on):





Dialogue:

 we want to be in a dialogue with our customers and cooperation partners to find joint solutions that meet the end user's expectations of healthy indoor climate.




Quality:

 we want to supply the best quality in the market and on time. We do not compromise with quality, neither regarding design, documentation, nor finished products.




Innovation and sustainability:

 we want to be innovative and creative - we want to set the standards in fabric-based ventilation products worldwide in functionality and in our choice of sustainable materials.




Credibility:

 we want to be a professional partner with heavy demands on ourselves, our suppliers, and our cooperation partners.




Openness and respect: we want to develop a culture throughout the group based on respect for the competencies and differences of each individual. Regardless of position, there must be room for opinions and for innovative ideas to be appreciated/


Honesty: we want to be honest in our communication - even if it hurts.

CSR

We Care

KE Fibertec practice Corporate Social Responsibility (CSR) throughout the corporation. We believe that we as a responsible company must show social responsibility by actively involving ourselves in the community and voluntarily contribute to making the world a better place to be.

UN Global Compact

KE Fibertec respect the UN Global Compact principles which among other things involve human rights, environment, and anti-corruption.

Read the 10 principles

Working Environment

Our employees are KE Fibertec's greatest asset, and therefore we prioritize their well-being in relation to their safety, health, and environment. The company is certified according to the ISO 45001:2018 Standard that ensures a good working environment. Further, we focus on the personal and professional development of every single employee to ensure that all members of our staff find it challenging and satisfactory to go to work.

Charity

For many years KE Fibertec have sponsored children's and handicap organizations as well as other organizations where we believe that we can make a difference.

We support the Danish Cancer Association, the Danish Childhood Cancer Organisation and other organizations who make life easier for the patients.

Our partners around the world also join our efforts. Recently, KE Fibertec in Mexico has donated a number of assistive devices to a nursing home in their local area.

Community actions are important to us. For instance we have collected toys and clothes for a children's home in Varnsdorf in the Czech Republic, where we also have a production plant that provides jobs for a number of local workers.

Supporting the students

We are in regular contact with students at the Danish technical colleges and universities, thereby supporting them in their project assignments, practical training, and field trips. We also work closely together with engineering students and scientists primarily at the University of Aalborg and the Technical University of Denmark with a view to jointly develop sustainable and efficient indoor climate solutions.

Environment and Energy

KE Fibertec care about the environment and we constantly work on energy saving initiatives throughout our organization. A reduction of the CO2 emission not only benefits the environment but also the company's bottom line which in turn make sit possible for us to continue our work for sustainability.

Environment and energy

At KE Fibertec, we care about the environment and about energy. We want to cause as little harm to the environment as possible, both in production and in transportation of our products. Therefore, we have launched a number of in-house, energy-saving initiatives to limit CO2 emissions.

To show concern for the environment is to show responsibility and sustainable considerations. On top of that, it's good business.

KE Fibertec is certified acc. to ISO 14001 (environment) and DS/OHSAS 18001 (working environment), and our fabric ducts are based on Oeko-Tex® Standard 100 certified yarns

Cradle to Cradle

We have achieved a Cradle to Cradle certification of CradleVent documenting the sustainability of the product.

CO2 neutral electricity from windmills

All electric power consumed by KE Fibertec and our weaving mill (KE Fibertec Væveri) is generated by windmills. Consequently, it is CO2 neutral and not harmful to the environment.

Download EWII-certificates:
KE Fibertec
KE Fibertec weaving mill


EPD

The EPD is an environmental product declaration that documents the life cycle environmental impact of a product.



By choosing fabric ducts you are doing something good for the environment:



Because of the low weight of fabric ducts, the fuel consumption during transport (and therefore the CO2

 

emission) will decrease remarkably compared with transportation of traditional steel ducts


A properly dimensioned fabric system is able to function optimal at a lower pressure drop than conventional ceiling diffusers


The air distribution with fabric ducts is better, and it is therefore possible to offer a solution that does not take in "unnecessary" air. This results in energy efficiency - and a better indoor environment.


Environmental Mapping

To minimize resource requirements and monitor our initiatives, the KE Fibertec group carries out an environmental mapping process every third year. With this documentation, we are able to determine if our environmental objectives have been reached and define new and ambitious objectives.

We want to reduce our consumption of Electricity, Gas, CO2, SO2, NOx and wastewater discharge, and by comparing with our turnover, we get a clear picture of how well we use our resources.

From 2009 to 2017, our ability to save energy and minimize the environmental impacts has improved considerably, which can be seen from the graphs below.


Electricity



Gas



SO2



CO2



NOx



Waste water




Download Oeko-Tex certificate
Download ISO 14001:2015 certificate
Download ISO 45001:2018 certificate

KE Fibertec is one of few companies in Denmark to receive the Krone Smiley of the Danish Working Environment Service. The Krone Smiley is awarded to companies that work seriously to promote a positive working environment.




EPD

An EPD (Environmental Product Declaration) is an environmental product declaration that documents the life cycle of the environmental impact of a product.

All material manufacturers are experiencing increasing demands to present documentation of the environmental impacts of their products, and as the world's first supplier of fabric based ventilation, KE Fibertec is soon ready to offer an EPD for fabric ducts.

In order to get an independent and objective evaluation, we commissioned the company 2.-0 LCA consultants to be in charge of the analysis, and it was performed according to ISO 14044 and the directions herein. The report is based on a textile duct of 10 meters, Ø 500 mm diameter and with an air volume of 5,000 m3/h.

An EPD is a summary of an LCA (Life Cycle Assessment), which is documented in a more  comprehensive report. The report is an in-depth documentation of the life-cycle environmental impact of a fabric duct, e.g. CO2 emissions (climate change), depletion of the ozone layer, release of hazardous waste etc.

An LCA enables us to compare fabric ducts with the environmental profiles of other products, and at the same time, it will be a tool to prioritize our optimization strategy as to which negative environmental impacts you wish to minimize.




Quality

KE Fibertec is ISO 9001 certified, which is a strategic management system to monitor the quality of all internal processes. Our goal is to deliver high quality products and services as agreed upon with the customer.

We take pride in working honestly and being reliable for our customers, suppliers, and colleagues.

Your time is valuable, and we understand the importance of delivering on time. 99.0% of our orders are delivered at the confirmed date.

Any errors will be corrected immediately. Our report system identifies and implements actions necessary to obtain continuous improvements. We have constant focus on customer complaints and have been able to reduce this number to a historic low of 0.076%. in 2018.

Customer complaints %




Jobs

Currently we do not have any job openings but feel free to send us an unsolicited application with your resume at info@kefibertec.com

KE Fibertec weaving mill

KE Fibertec is the only manufacturer of fabric ducts worldwide to have its own weaving mill. The weaving mill was established in 1972 and is today run by Mr. Frank Hansen, who is the manager and third generation of the family business.

KE Fibertec weaving mill exclusively manufactures fabrics for textile duct ventilation, which is a unique situation on the global market and gives us a valuable know-how on these materials for the benefit of our customers.

To have our own weaving mill just across the parking lot gives us a very flexible cooperation partner who can meet our demands and requests, especially on quality control and supply security.

KE Fibertec weaving mill has very strict demands on suppliers of yarn, and all raw materials are subject to extensive input control to ensure that the permeability is unchanged even after many washes:



Color may vary no more than ∆E=1
The fabrics may shrink no more than 0.5%
Maximum 1% spinning oil in the yarn (standard for raw materials 3.5-7%)


After input control the fabrics are woven on 8 looms in total - rapier looms and the more upgraded air jet looms.

To be able again to control shrinkage, the fabrics are heat-set, i.e. heated in a special oven at 160°-190°C. At this stage the material can shrink maximum 0.5% after washing.

Before the fabrics leave the weaving mill, they undergo inspection on a light table to check for faults such as stains, and the permeability is checked as well.

A barcode enables us to monitor the fabric which gives us full traceability in relation to production date, permeability, etc. - from reel to finished product delivered and installed for the end user.

All materials are 100% polyester available in 3 different qualities:



GreenWeave (DS approved, fire retardant - B-s1, d0)
MultiWeave (fire retardant)
Ordinary polyester


Further, we supply special materials such as Nomex and antistatic Trevira CS.

KE Fibertec weaving mill manufactures 7 different types of "permeability" and has a range of 89 different product items.



Order our catalog for further information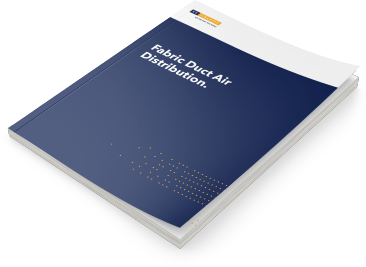 Design
To be able to properly design a fabric-based ventilation system, it is important to understand a number of essential parameters and concepts.

A fabric-based ventilation system is not fundamentally different from conventional ventilation systems, but there are a number of key points where it is important to be extra cautious, such as pressure conditions, pressure loss, pulsations, pressure impact, entrainment, air velocities, and sound.

It is very obvious when a fabric based ventilation system has been designed incorrectly, because the ducts will be oval in shape and "sagging" when you look at them. The difference in the static pressure between two parallel ducts may be quite considerable too.

This not only has an impact on the aesthetic appearance, but also to a great extent on air distribution. If the pressure distribution is uneven, then this can cause draft problems below and around the duct with high static pressure, while in the opposite case, the air quality will be poor where the static pressure (and therefore the volume of air) is not sufficient.

Further, there may be a risk of pulsations in the fabric material that may damage not only the fabric material but also the suspension material.

Finally, a properly designed fabric ventilation system is important, as a poor design can impact the noise generated by the system greatly.

Design and flow visualization with TBV Designer

KE Fibertec has developed the TBV Designer program in order to be able to document technical data supported by know-how.

The program enables flow visualizations and documentation of the solution. It also features freedom of design, spacing, and information on velocity within the occupied zone height.

See more in the film below showing the dimensioning of Water & Wellness Flintholm. 




Dialogue & Quotations


KE Fibertec has developed a number of tools and services that our customers can choose to use throughout the entire project process. Our services are graded so that customers can decide for themselves which ones they do and do not want. Our opinion is that no two jobs are the same, and no solution is standard. Consequently, the documentation and level of detail need to be adapted to the requirements and specifications of each individual project.

Our service can be split into two categories:
Quotation and design
Extended project documentation

Our quotation and design processes are described in detail in our ISO 9001 quality assurance system. This ensures that we prepare the basis for the quotation and the quotation itself according to standardized guidelines, making sure that the customer's requirements are specified and documented in full detail.

KE Fibertec puts a large emphasis on ensuring that the final solution is designed correctly, even at the quotation stage. After all, it is not only about ensuring that the fabric based ventilation system works properly, but just as importantly, that the customer's indoor climate requirements have been met. This is why we ask about the system's functional requirements and the requirements for the indoor climate at the quotation stage.

All the calculations are proven using our unique software TBV Designer, which is offered to all our customers, regardless of the size of their project and, of course, free of charge.

Of course detailed mounting and maintenance instructions are included. For complicated fabric duct systems we also include AutoCad drawings.

As part of our extended project documentation we offer full-scale measurements in our laboratory, on-site measurements, and separately quoted CFD simulations.